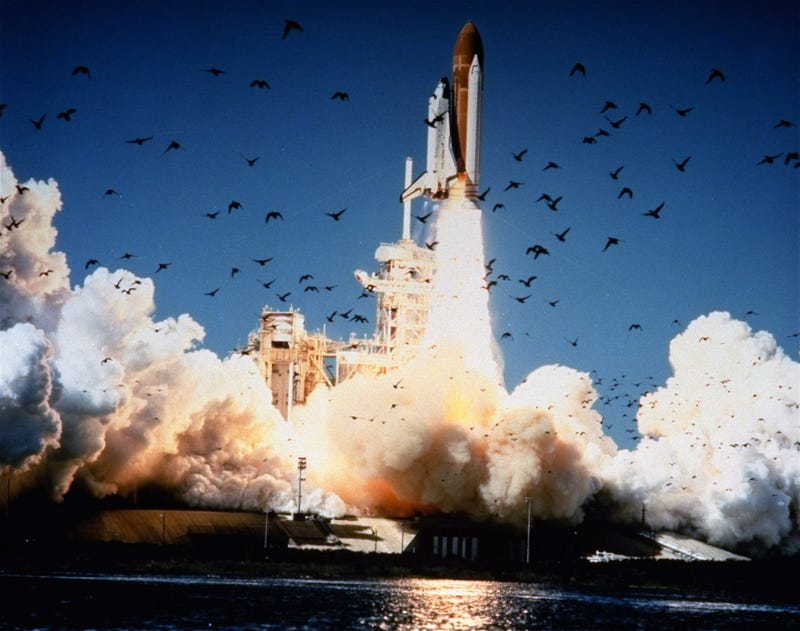 Among all of the talk about who is in and who is out in the Republican Primary Debate and all of the heated political discussion we have here locally in Houston. I hope we call all take the time to stop, just for a moment, to remember and honor the 7 brave astronauts that we lost 30 years ago in the Space Shuttle Challenger. 
Just like so many of us, I remember that day vividly. I was watching the space shuttle launch with my grade school class on TV. All of us were so proud of that specific day not only because we another launch was happening, but because a teacher (Christa McAuliffe) was a part of the crew. It is like we were all on board the Challenger. 
Once the explosion occurred, an deafening silence filled the room. We were all in shock as to what we had just witnessed.  Tears filled the every eye in our classroom and all of the other classrooms that were watching the live coverage, and no words were able to be spoken. As a son of a school teacher, I and my mother, took this tragedy really hard because she was one of the thousands of teachers that wanted to fill that seat on the Challenger. Again, words were hard to come by in our household, until we both sat down together to listen to President Ronald Reagan address to the nation: 
And I want to say something to the schoolchildren of America who were watching the live coverage of the shuttle's takeoff. I know it is hard to understand, but sometimes painful things like this happen. It's all part of the process of exploration and discovery. It's all part of taking a chance and expanding man's horizons. The future doesn't belong to the fainthearted; it belongs to the brave. The Challenger crew was pulling us into the future, and we'll continue to follow them. -Ronald Reagan
I have never felt so close to a sitting president before that day. It was as if he was speaking to me directly and left me with a since of hope, pride, and inspiration to never give up regardless of what life hands you. President Reagan knew exactly what to say to pull all of us back together so we could help our neighbors get through this tragic situation as one brave nation. Even today after watching the speech again, I am boosted to continue with persistence though my own challenges for running for Texas House of Representatives-District 147 and strengthening our communities in the process. It is a tough challenge but as Reagan so eloquatly stated the future does not belong to the fainthearted.  I pray this encourages you as well.
We want and need strong representations of leadership like what President Reagan showed that day to better our shining city, and I as your next representative in the Texas House I will continue to strive to be that leader. After you take the time to honor Ellison Onizuka, Mike Smith, Christa McAuliffe, Dick Scobee, Greg Jarvis, Ron McNair and Judith Resnik, I ask that you consider supporting me and this campaign to bring back the Accountability, Responsibility, and Communities that we all desperately desire. After all, it is never about me, it is about US. God Bless US, God Bless Texas, and God Bless Houston!
Sincerely, 
Matt Murphy
Candidate For Texas House of Representative-District 147
Do you like this post?